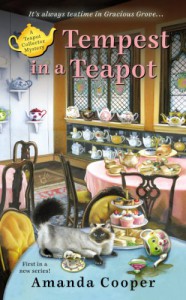 When her fashionable Manhattan restaurant goes under, Sophie Taylor retreats to her grandmother's cozy shop, Auntie Rose's Victorian Teahouse. The last thing Sophie expects is a bustling calendar of teahouse events, like her old friend Cissy Peterson's upcoming bridal shower. Not everyone is pleased with the bride-to-be's choice of venue--like Cissy's grandmother, who owns a competing establishment, La Belle Epoque, and has held a long-simmering grudge against Rose. But when Cissy's mother-in-law-to-be dies while sampling scones at La Belle Epoque, Sophie will have to bag a killer...
Too many exclamation marks, too much internal dialog and the book could have been about 75-100 pages shorter and been the better for it. I didn't connect with Sophie, although I didn't dislike her. The only character I actively liked was Dana, and she wasn't a major player in the book at all.
Still, the book had a few things going for it. The setting is a dry (no alcohol for sale), small town in the Finger Lakes of New York, a small twist that could allow for some interesting plot lines. This is one of the few cozies I've read that alternates POV as well; it wasn't overdone so it was a nice change of pace, although I'll admit I could not quite figure out the point of hearing Thelma Mae's POV - it didn't feel like anything helpful was added to the story, except to illustrate just what a bitter, hateful old bat she was.
The murder plot, had the story been a bit tighter, was excellent. As it was, the meandering story made it more difficult to follow the trail of a nice twisty mystery with a bit of a surprise ending. By the time I got to the end, I just didn't care that much anymore.
The series isn't without potential, but I think people who prefer their mysteries as genteel as possible will enjoy these books most. As it felt to me as though the author was going out of her way to write the least objectionable story possible to try to keep everyone happy, I'll likely pass on reading any future books in the series.