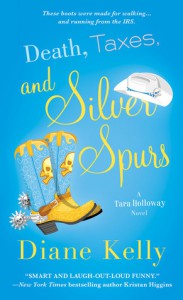 Normally, I love these books, but this particular one didn't do it for me. Most likely because I just could not relate.
Our MC, Tara, is assigned to investigate her favorite country music singer for tax evasion. She is besotted with this man and when she finally gets a face-to-face with him, our normally strong, intelligent, hard-working heroine loses her freaking mind. Turns to jello right there inside her skull. For a good portion of the book, she reminded me of those awful female characters that are treated terribly by men, and then make excuses for the terrible treatment. This, of course, causes conflict between her and her boyfriend, also an IRS criminal investigator; you'd expect it to. But Nick doesn't use his words very well and he comes across as a jealous ass, instead of just jealous.
I genuinely believe this story line didn't work for me because I can't relate to the über-fan mentality; I'm a big fan of Chris Hemsworth and if I saw him walking down the street in Melbourne (he's from here, so there's hope!), I'd definitely stop, gape and admire. But my underwear and I aren't parting ways and I wouldn't chase him down the street squee'ing and giggling.
The other main plot line, an investigation into an oil and gas company, was much better. Except one obvious connection Tara failed to make (come on!! Smart, remember?) it was a much more interesting story for me. I'd have liked to see more of Tara's two best friends - they make only the shortest of appearances, but there's some very good character development taking place between Tara and Nick.
...Silver Spurs is a fast, fun, well-written story, but it's just not my kind of story, and that's ok - not every book can appeal to everyone and this book gave me no reason not to look forward to Tara's next investigation.
[PopSugar 2015 Reading Challenge: A book you can finish in a day - because I did.]